June 15-18, 2023
Fountain Valley Sports Park
FREE PARKING
$5 Entry Fee (Kids 5 years and under Free Entry)
Thursday 5-11 PM
$2 Carnival Ride Night
Friday 5-11 PM
Fireworks and $5 Beer & Wine Night
Saturday 2-11 PM
Drone Light Show
Sunday 12-8 PM
Fun Awaits
Come Join Us!
Fun awaits you at the 2023 Fountain Valley Summerfest from Thursday, June 15 through Sunday, June 18 at Fountain Valley Sports Park.
Rock with a jam-packed line-up of live concerts on the Main Stage. Soar to new heights as you spin upside-down in the Fun Zone where you can enjoy carnival rides and play games for all ages. Taste delicious eats - sweet treats, savory bites, and fest favorites along with our adult beverage options including our signature drink, Summer Smash.
Come out to support the Community Stage, a dazzling array of talented performers which will feature local area dancing troupes, theater groups and music groups such as high school and small bands. Don't give up your shopping time. Shop til you drop in the Vendors' Corner.
Be mesmerized with the FREE Fireworks (on Fri) and Drone Light Show (on Sat) that will light up the sky above Fountain Valley Sports Park.
Summer has never been so much fun!
Thu: 5-11 PM • Fri: 5-11 PM • Sat: 2-11 PM • Sun: 12-8 PM
All shows, bands, times, rides, food/drinks are subject to change without notice.
Main Stage

Sponsored by Floor & Decor

Thursday, June 15

6:00-7:30

8:30-10:00

Friday, June 16

6:00-8:00

8:00

9:00-11:00

Saturday, June 17

3:00-5:00

6:00-8:00

9:00-11:00

1:00-2:30

3:30-5:00

6:00-8:00
Community Stage

Sponsored by Fountain Valley Community Foundation

Thursday, June 15

6:00-6:30

FVHS Jazz Band

6:45-7:15

MYART's Showcase Troupe

7:45-8:15

Khan Artists - Fulton Middle School Rock Band

8:30-9:00

Voice of FVHS 2023 - Scarlett English

Friday, June 16

6:00-6:30

FVHS Chamber Strings

6:45-7:15

Huntington Beach Singers Company

7:30-8:15

Kelela Rose Dance Studio

8:30-8:45

Miss FV Scholarship Program

9:00-9:30

Voice(s) of FVHS - Madalyn Pham

Saturday, June 17

3:00-3:45

School of Rock, Huntington Beach

4:00-4:30

Sts. Simon and Jude Dolphinettes Cheer

5:00-5:30

Masuda Middle School Choir

5:30-6:15

Fulton Middle School Choir, Talbert Middle School Choir

6:30-7:00

Beach Cities Dance

8:45-9:30

The Complex Concepts - Masuda Middle School Rock Band

Sunday, June 18

1:45-2:15

Grupo Folklórico Desafío

3:00-3:30

Voice(s) of FVHS - Paige Taylor

3:45-4:00

Baton Twirling School

4:15-5:00

Charade Dance Academy

5:15-5:30

Voice(s) of FVHS - Tricia Tran

6:00-6:45

Faded Fortunes
Admission

Required for age 5 years and older.

$5
Carnival Rides

Thrilling carnival rides for kids and adults.

Thursday $2 Ride Night

Available onsite for Thursday only.

$2

PRESALE Unlimited Ride Wristband (SAVE $8)

Available online for Fri. Sat. or Sun.

* plus $2 service fee

Presale ends Wed. June 14 @ 8:00 PM.

$35*

ONSITE Unlimited Ride Wristband

Available onsite for Fri. Sat. or Sun.

* plus $2 service fee

$43*

ONSITE Individual Credits

Available onsite for Fri. Sat. or Sun.

1 credit is .50 cents.

Rides take 9-18 credits per rider.

Carnival Rides & Restrictions

Note: No open toed shoes. No sandals. Advised to wear tennis shoes. Rides with no single riders, see ride attendant for assistance.

Xtreme - Star Dancer: 55"

Ferris Wheel: 15 years old or w/adult. No single riders.

Kamikaze: 52"

Zipper: 48". No single riders.

Star Flyer: 52". No single riders.

Thunderbolt: 48". No single riders.

Orient Express: 39" w/adult or 48" alone

Merry-Go-Round: 36" w/adult or 42" alone

Super Slide: 42"

Funnel Force: 42"

Jalopy Junction: 36"

Berry-Go-Round: 36" w/adult or 42" alone

Tilt-A-Whirl: 36" w/adult or 48" alone

Oh Chute: 44"

Flying Dragon: 36"

Happy Pond: 36"

Scooters Bumper Cars: 42" w/adult or 48" alone

Crystal Lil's Glass House: 36" or w/adult

Fun Wheel: 36" or w/adult

Jungle of Fun: 36" to 50"
Beer / Wine / Cocktails

Must be 21 years or older to consume alcohol.

Summer Smash

Vodka, Cranberry Juice, OJ, Grenadine, Lemon Lime Soda

Margarita

Tequila, Margarita mix, Triple Sec, OJ

$10

$8

Wine

Chardonnay

Cabernet Savignon

$7

TBD

$1
Food Vendors

Come hungry. Something for everyone.

B Food International

sausage hotdog, corn dog, philly cheese steak, carne fries, bacon cheese fries

Beach Pit BBQ

brisket, pork, chicken, beef, cole slaw and beans

Bizuri Ice Cream

soft serve ice cream, shakes, cones, banana splits

Buttery Popcorn Company

kettlecorn, frozen lemonade and shaved ice

Cali Sweets

deep fried twinkies and oreos, crepes

Cathy's Cookies

chocolate chip cookies, milk, coffee, hot chocolate

Cruisin Juice

spiral potato, popcorn chicken, smoothies, lemonade, cotton candy

Hawaiian Dancing BBQ

chicken, pork, ribs, turkey legs, rice and green salad

Hong Phat Deli

grilled meat, grilled corn, pork bun, egg roll, rice, noodle

Jox Jox

hamburger, chicken wings, nacho, tacos, boba

Kali Churros

funnel cakes, churros, aguas frescas

Kiwanis

roasted corn

KKochi

taiyaki, meat skewers, rice cake and sausage on skewer, bulgogi fries

Kona Ice

shaved ice

Pizza 120

fast fresh artesian pizza in 2 minutes

Raul's Concessions

nachos, smash burger, fries

Snack Attack

chicken strips, mozzarella strips, fries, corn dogs

Tasty Creations

beef, chicken, pork tacos, burritos, tacos, fruit bowls
Free Parking: Lots 1, 2, 5, 6, and 7
Disabled Person Parking
Each of the parking lots at the Fountain Valley Sports Park comes with appropriately designated disabled person parking. We also provide additional disabled person parking in lot 3 or the Restricted Permit Lot on a first-come, first-serve basis. Appropriate DMV identification is required.
UBER/LYFT ZONE (for drop off)
We have a drop-off zone for our event.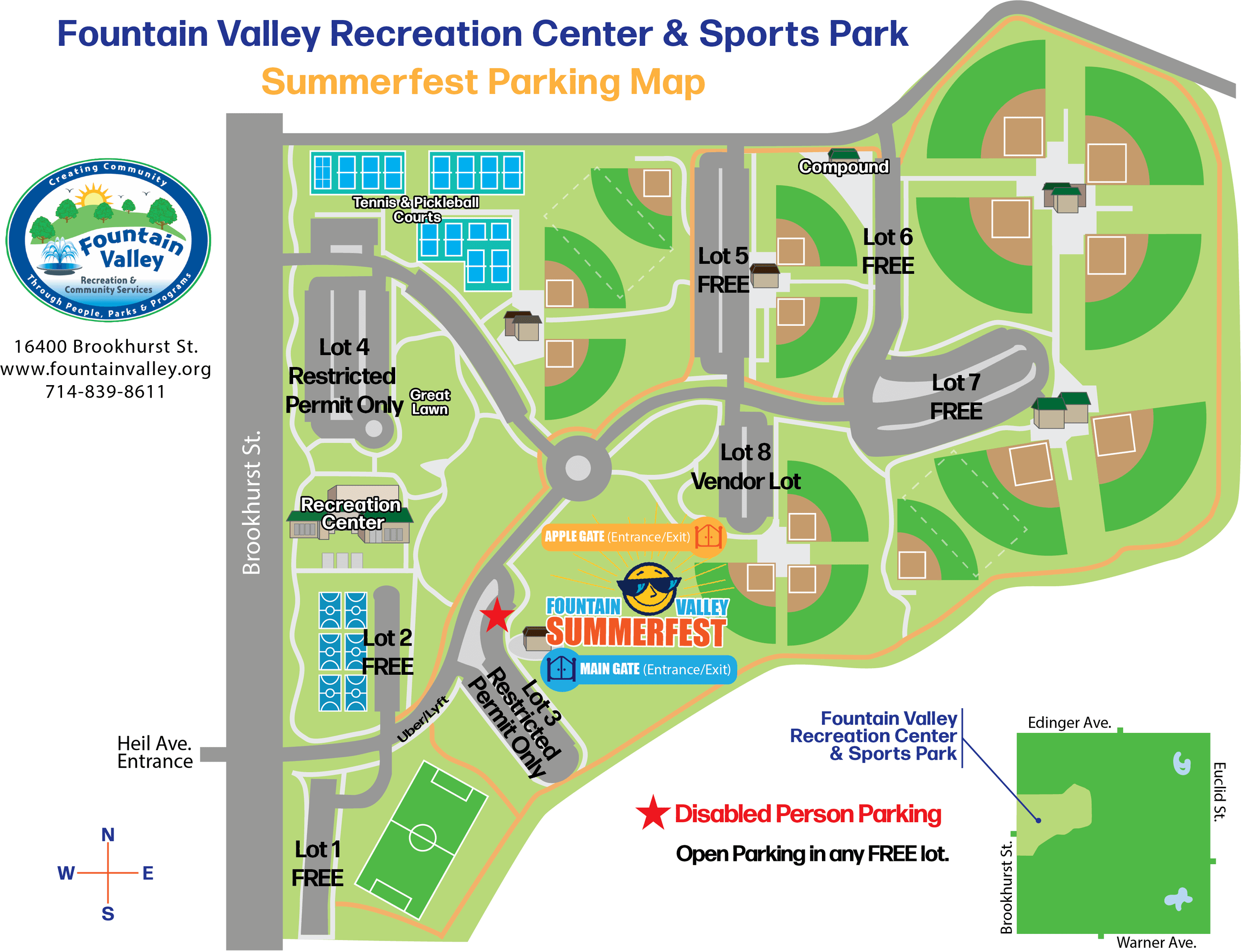 Sponsors
The support we receive from our sponsors every year is tremendous. It allows Fountain Valley Summerfest to continue in its quest to not only provide our attendees to the Festival with a fun and exciting time, but to continue giving back to our local community.
Kingston Technology
Pacific Premier Bank
Republic Services
Tom Vo's Taekwondo